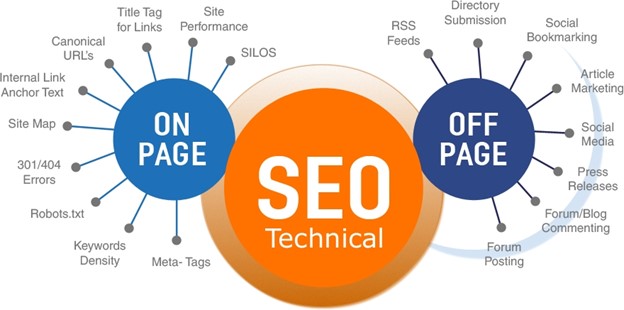 For most businesses, there are few better ways to reach consumers than by way of search. Research shows that four out of five consumers use search engines to find local businesses, and people who seek out local businesses on search engines are more likely to become customers.
But there is more than one way for local businesses to leverage search engines to get in front of prospective customers. The terms SEO and SEM are frequently used – and sometimes, erroneously, interchangeably – when it comes to strategies for reaching customers on search engines. But they don't mean the same thing.
SEO, which stands for search engine optimization, refers to techniques businesses can implement to improve how their websites rank organically on search engines. SEM, meanwhile, means search engine marketing – an umbrella term for SEO and other techniques that can help local businesses grow search engine referrals. More often than not, however, SEM really means the use of paid ads on Google or Microsoft search engines.
SEO: Search engine optimization means using a prescribed set of best practices that help search engine crawlers understand exactly what it is that your business offers. This, in turn, allows search engines to show your content to people who are seeking your products or services.
Managed properly, SEO best practices can help your website naturally rank higher than other similar brands in the SERP (Search Engine Results Page). A key difference between SEO and other SEM techniques is that businesses can't 'rent' their way to better organic rankings. These rankings are ultimately determined by search engine algorithms – do everything right, and your website may show up higher in search results while SEO mistakes can result in lower search rankings or even getting delisted from Google, which is why many businesses invest in SEO services like those offered by us at  Ad Caffeine.
Here is a sample of the many things search engine crawlers look for to deliver content to users:
1)     Site Architecture – descriptive page titles and URLs which incorporate relevant keywords,
2)     Regularly updated, highly relevant content such as articles and blog posts,
3)     Inbound links from other websites which show that your website is credible and authoritative, and,
4)     Mobile-friendly content
SEO best practices can work separately or have a cumulative effect. The challenge with SEO is that every time a search engine such as Google changes its algorithm for ranking websites, these best practices may change too. It can require a lot of work to keep up, which is why most businesses prefer to leave this aspect of their digital marketing to SEO experts like us.
Unlike SEO, a key difference with SEM is that when you invest in search ads, your business is guaranteed a presence within search results (if the bids* are successful). Your ads may appear ABOVE the Google map in most search results. Pricing for ads works "bidding" system, with your bid determining the maximum you are willing to pay to have your ad shown. In fact, your SEM 'Quality Score' plays the most significant role in how much your bid will actually cost!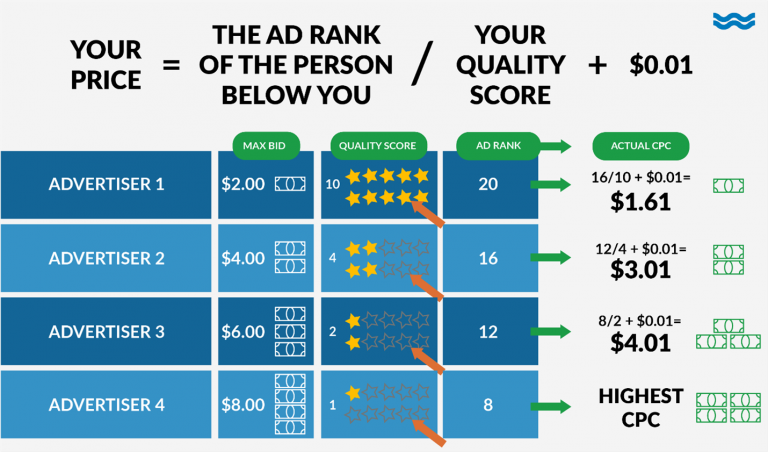 This is a sample and is not necessarily reflective of an actual Google or Microsoft auction and is used here to give readers a basic understanding of how your Quality Score affects the bidding process.
An SEM expert can help you plan and optimize your search ads to get the most bang for your buck. Our team at Ad Caffeine would be more than happy to assist you through this buying process. Reach us at info@adcaffeine.ca or our contact us page.